Wash Style:

Mechanical Wash

is_customized:

No

Use:

Home

Pattern Type:

Plaid

Feature:

Anti-Slip

Material:

100% Polypropylene

Origin:

Mainland China

Product Size:

28×9/30×8 in

Quantity:

15 PCS

Backing Material:

Non-slip TPE

Surface Material:

Polypropylene Fiber (PP)

Washing:

Machine Washable

Edge:

Velvet Wrapping (PP)

The Perfect Solution for Slip-Resistant Stairs: VEVOR Stair Treads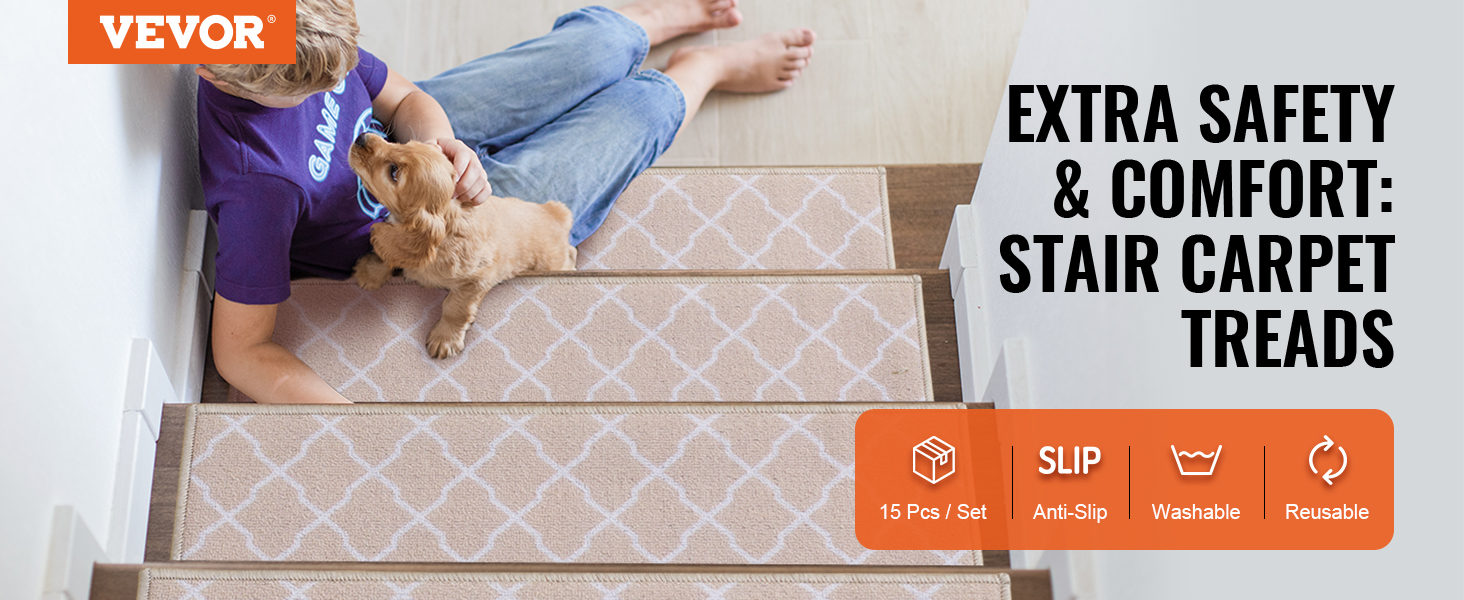 Discover the remarkable benefits of VEVOR stair treads. Enhance safety, protect your stairs, add comfort, style, and enjoy easy installation. Elevate your staircase with this must-have addition.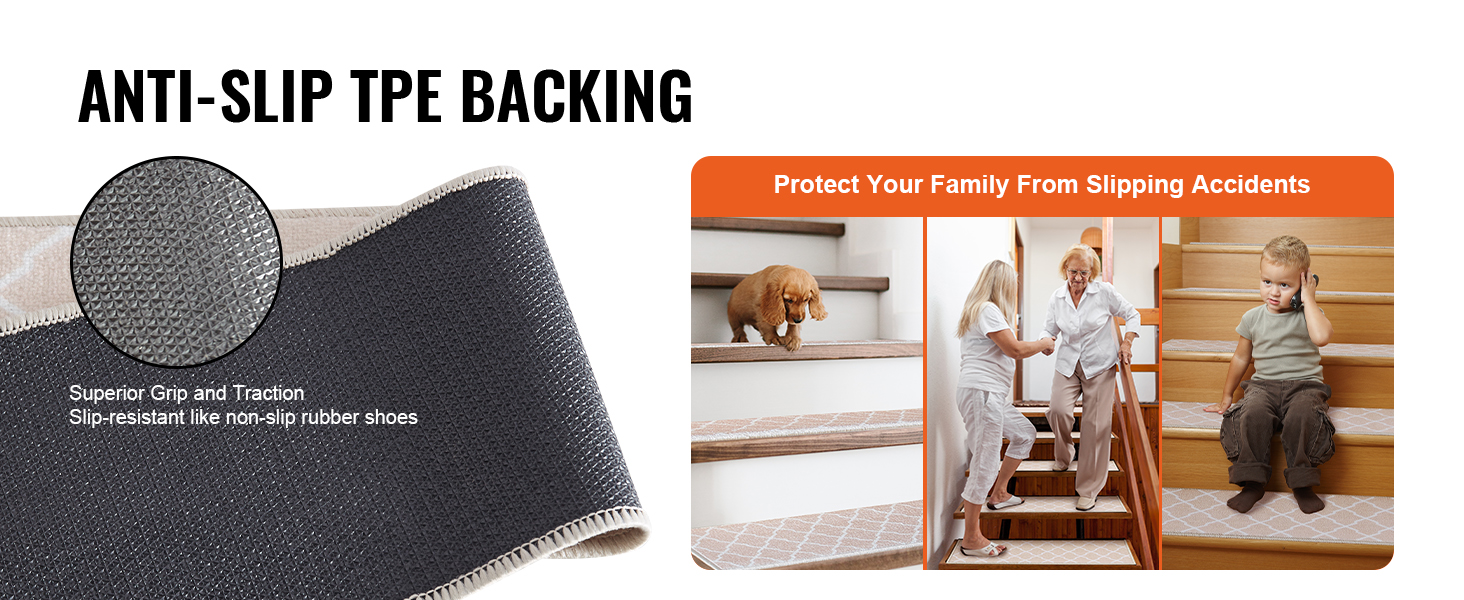 The stair treads feature an anti-slip TPE bottom that securely adheres to the stairs, ensuring they stay in place and provide safety for your family and pets while going up and downstairs.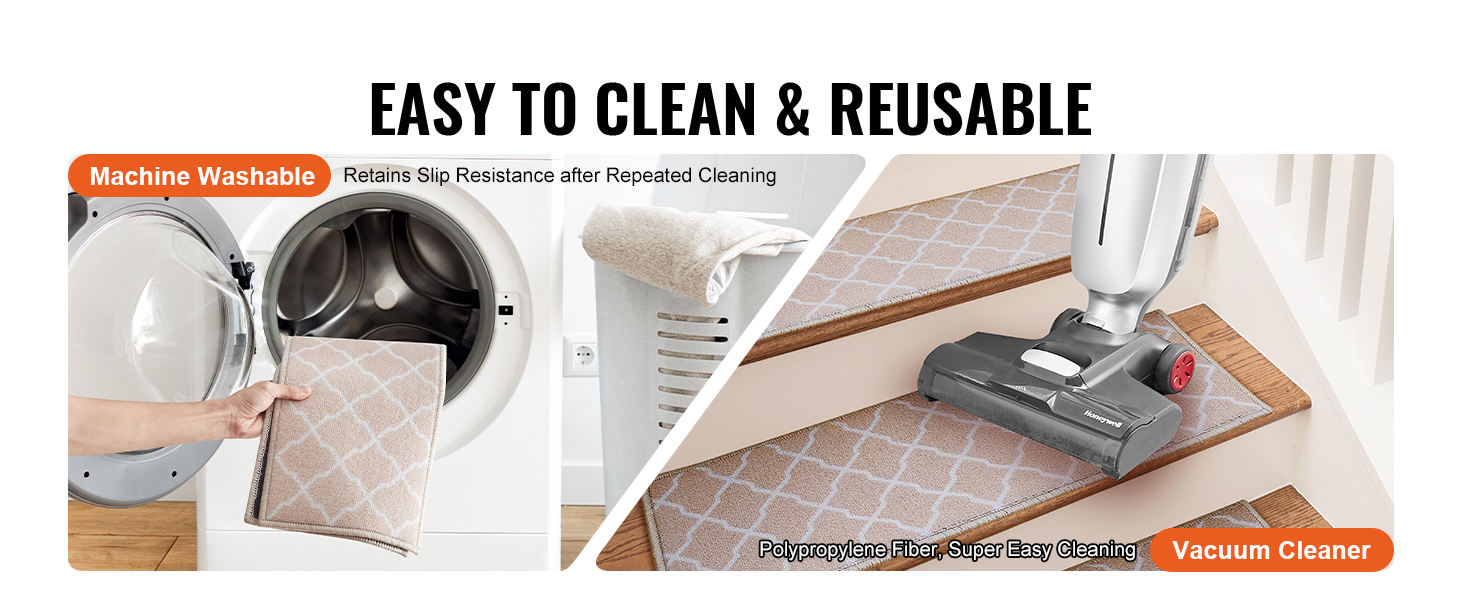 You can easily clean the non slip stairs carpets using a vacuum cleaner or washing machine. Even after washing with water, the stair mats will keep their shape and slip resistance. When you need to reposition or remove them, there will be no residue or damage to the stair surface.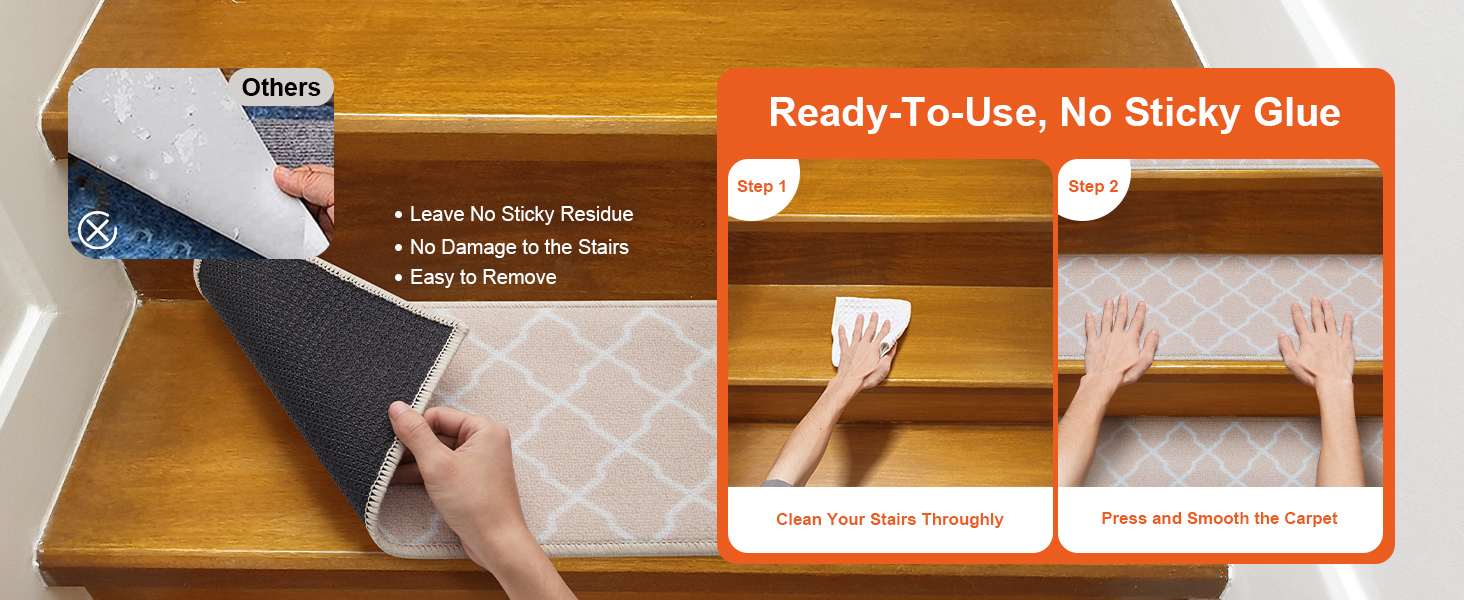 Installing our stair carpets is a breeze – just clean your stairs, position the treads, and smoothly apply them to each step. It's truly that simple! No more wasting time on complicated installations; instead, cherish precious moments with your loved ones.
Our stair carpet treads are made from soft polypropylene fiber, providing a comfortable and quiet experience. These anti-slip treads can be easily attached to different types of stairs like wood, tile, stone, metal, and glass, ensuring secure footing.
Features & Details
Non-Slip Stair Rug: Our stair treads feature a non-slip TPE backing, ensuring superior grip and traction to prevent slips. No need for sticky glue or tape, so there isn't any residue when removing the stair pads. They offer reliable slip protection for your family and pets without harming your stairs.
Washable & Reusable: Our non-slip stairs carpets are easy to clean. You can use a vacuum to remove dust, scraps, and pet hair. They can also be tossed into the washing machine, and they will maintain their shape and slip resistance even after repeated washings. Plus, our edge-locking technology prevents any fibers from falling off.
2 Steps Hassle-Free Install: Our stair carpets are incredibly user-friendly. No more sticky glue or bothersome film to deal with. Simply clean your stairs, effortlessly position the treads, and smoothly apply the carpet to each step. It's as simple as that! Experience a hassle-free journey while effectively protecting your stairs.
Comfortable and Quiet: Stair carpet treads made from soft and plush polypropylene fiber provide a more comfortable surface to walk on. Enjoy the softness with every step, even when you're walking barefoot. They can also help absorb noise, making the stairs quieter and more pleasant to use.
Perfect Size: The 15 pieces of carpet runners for stairs are sized at 28" x 9", making them suitable for most standard stairs. These anti-slip stair treads can be easily adhered to wood, tile, stone, metal, and even glass stairs, providing the necessary foot traction. Enjoy all around protection and ultimate comfort in your home.