Brand Name: 

VEVOR

Origin: 

Mainland China

Certification: 

CE

Condition: 

Brand New

Brand: 

VEVOR

Material: 

Iron Composite Board

Capacity of Top Table: 

330 lbs

Glass Holder: 

1 Pcs

Wine Rack: 

2 Pcs

Door Type: 

Double Metal Door

Item Weight: 

61.2 lbs / 27.75 kg; 78 lbs / 35.4 kg

Item Dimensions: 

47.2″x13.6″x28.4″ / 120×34.5×76.2 cm; 55″x13.6″x30″ / 140×34.5×76.2 cm

Product Description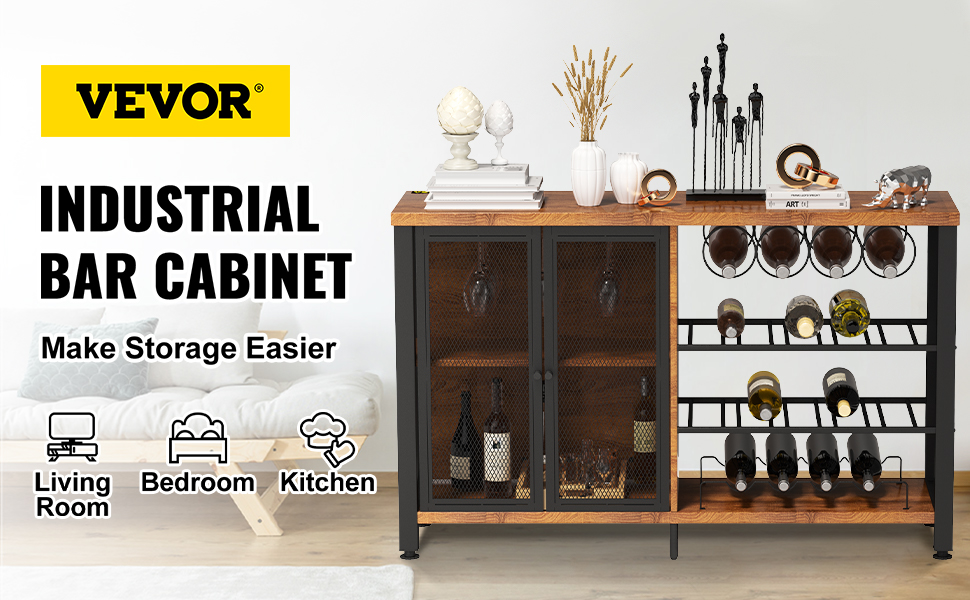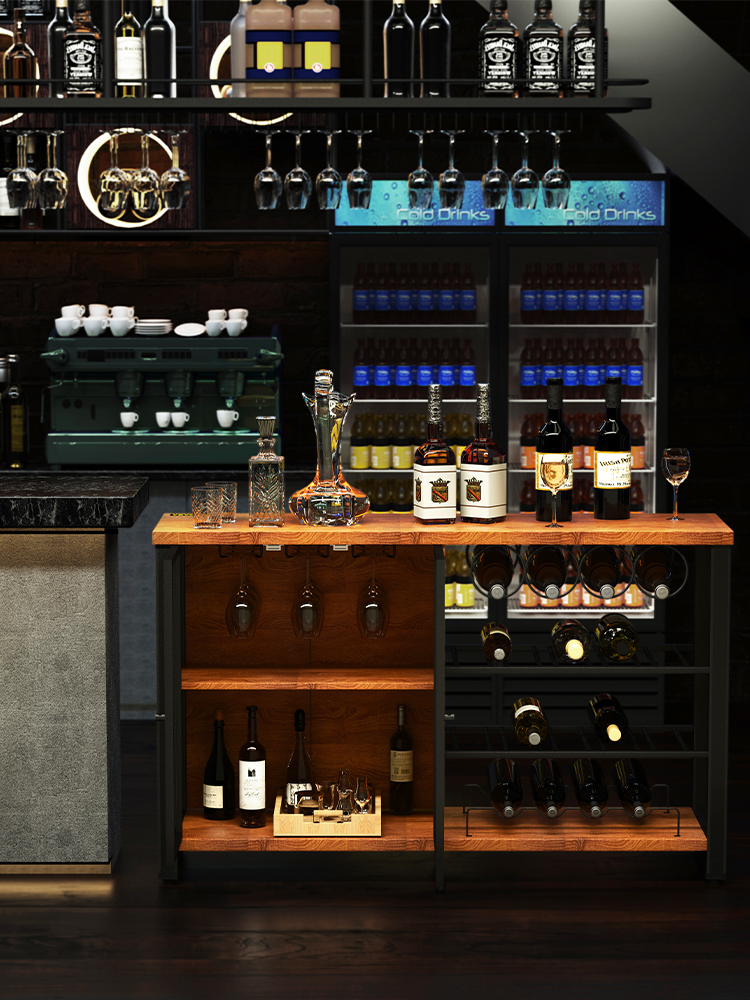 Industrial Bar Cabinet
Wine Racks & Wine Glass Holders & Metal Mesh Door
Are you ready to take pride in your wine collection? Well, look no further. This industrial bar cabinet is a versatile piece of furniture that provides space to stash and store your treasures while lending visual appeal to any space. Not only can it be used as a liquor cabinet, but it can also be used as a storage cabinet in the living room. It is perfect for a coffee bar, buffet sideboard, and coffee stand in the dining room. With its durable material, super load-bearing, and adjustable 4 feet, you can arrange your storage space as you like. Take this VEVOR wine bar cabinet home quickly and raise the quality of your home space!
Multi-Functional Bar Cabinet

Stable and Secure

Better Manage Your Wine

Unique Industrial Style

Store Items Everywhere

Tough Equipment & Tools, Pay Less
VEVOR is a leading brand that specializes in equipment and tools. Along with thousands of motivated employees, VEVOR is dedicated to providing our customers with tough equipment & tools at incredibly low prices. Today, VEVOR's products are sold in more than 200 countries and regions with 10 million plus members worldwide.
Why Choose VEVOR?
Premium Tough Quality

Incredibly Low Prices

Fast & Secure Delivery

30-Day Free Returns

24/7 Attentive Service
Key Features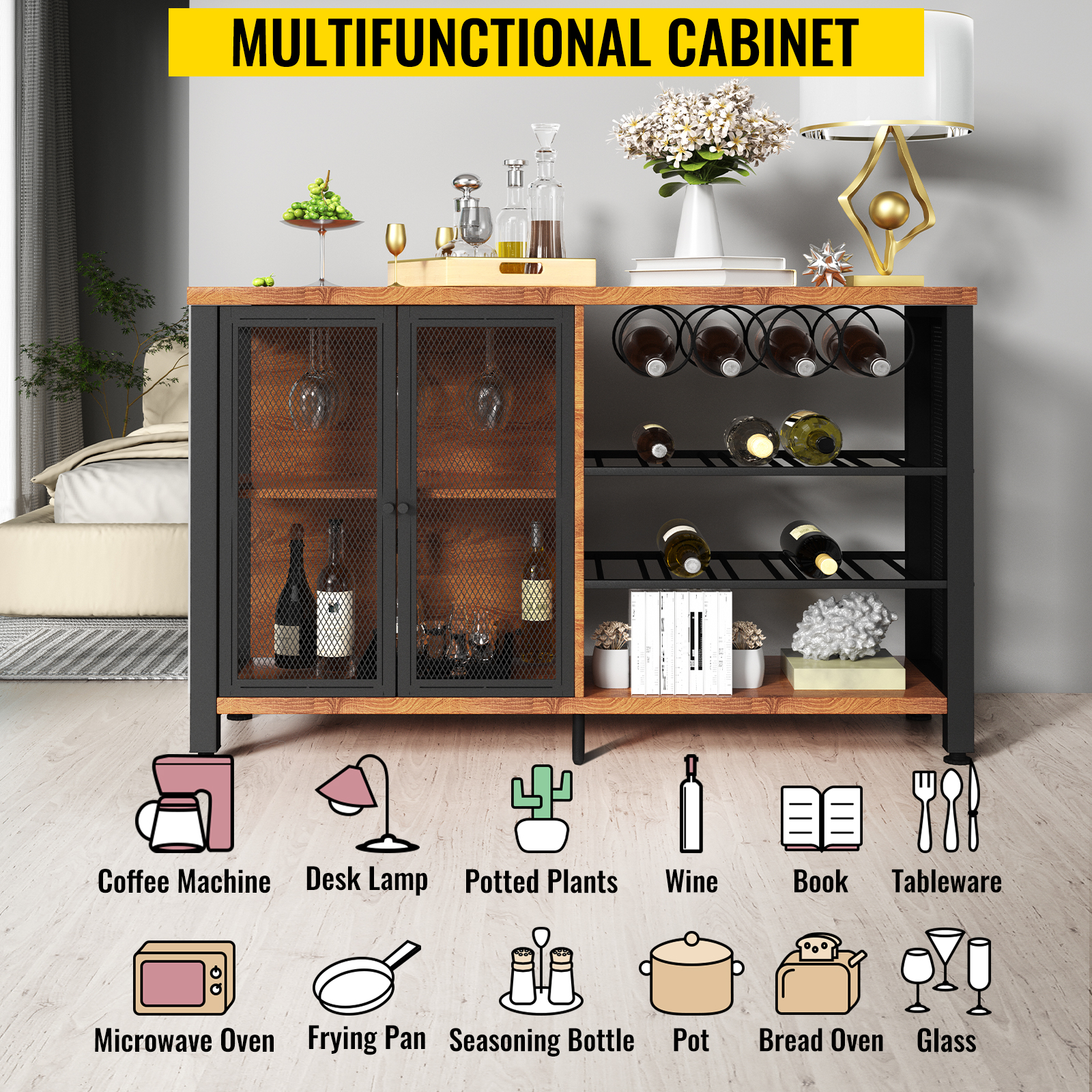 Organize Your Dream Space
Our bar cabinet provides you with as much space as possible to create an orderly storage cabinet. It not only becomes a bar counter but can also be used to store your kitchen utensils, decorative articles, books, and other objects.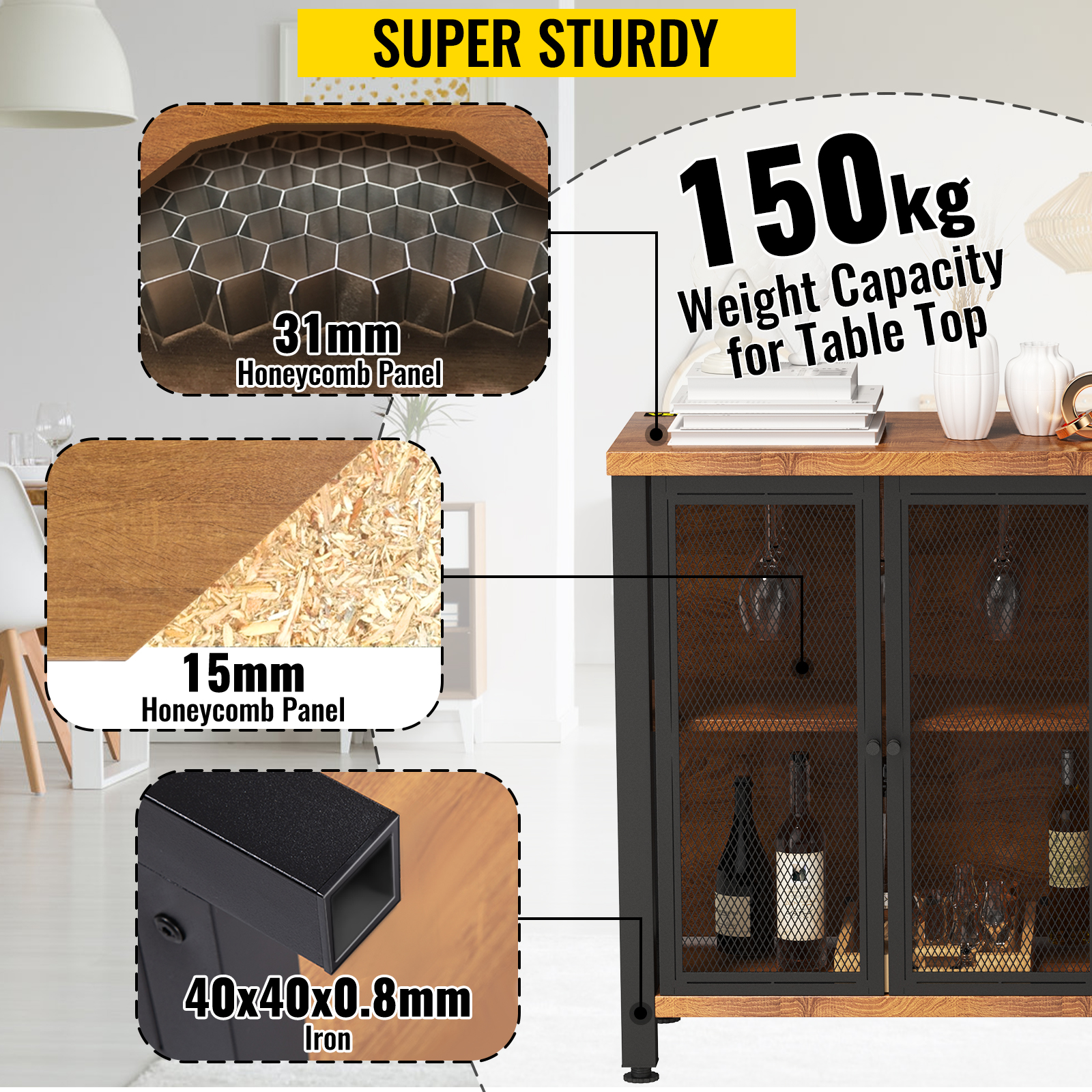 Reliable Structure
The solid metal frame, 31 mm thick honeycomb board, and 15 mm thick particleboard provide a solid foundation for this freestanding wine rack. 2 support legs are added under the middle of the bottom to ensure that there will be no shaking during use and that it is safer.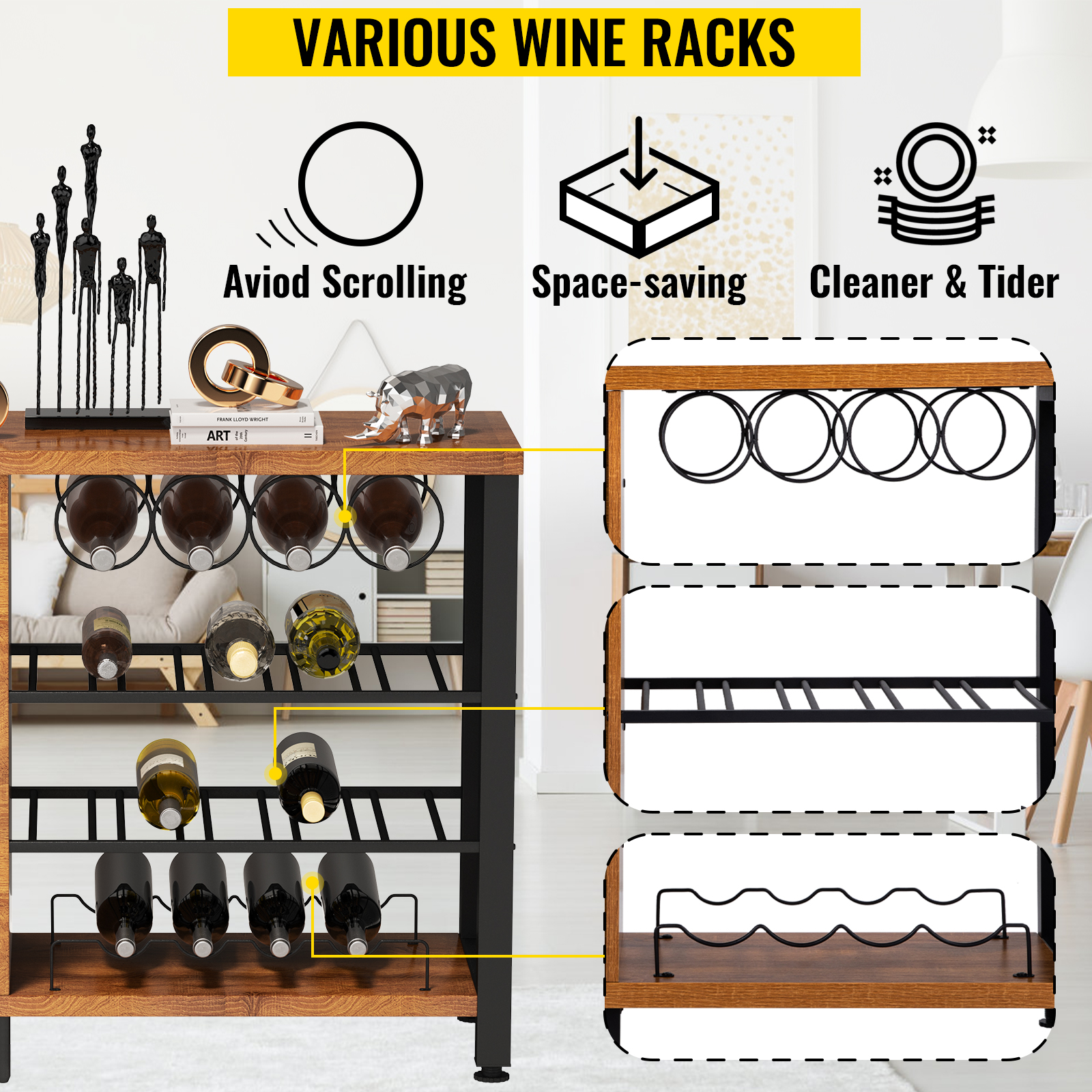 Various Wine Racks
It is different from similar models because the right side of our counter is replaced by 2 layers of diamond-shaped red wine racks, allowing you to store more wine. The wine racks on the top and bottom can hold 8 or 12 bottles of wine.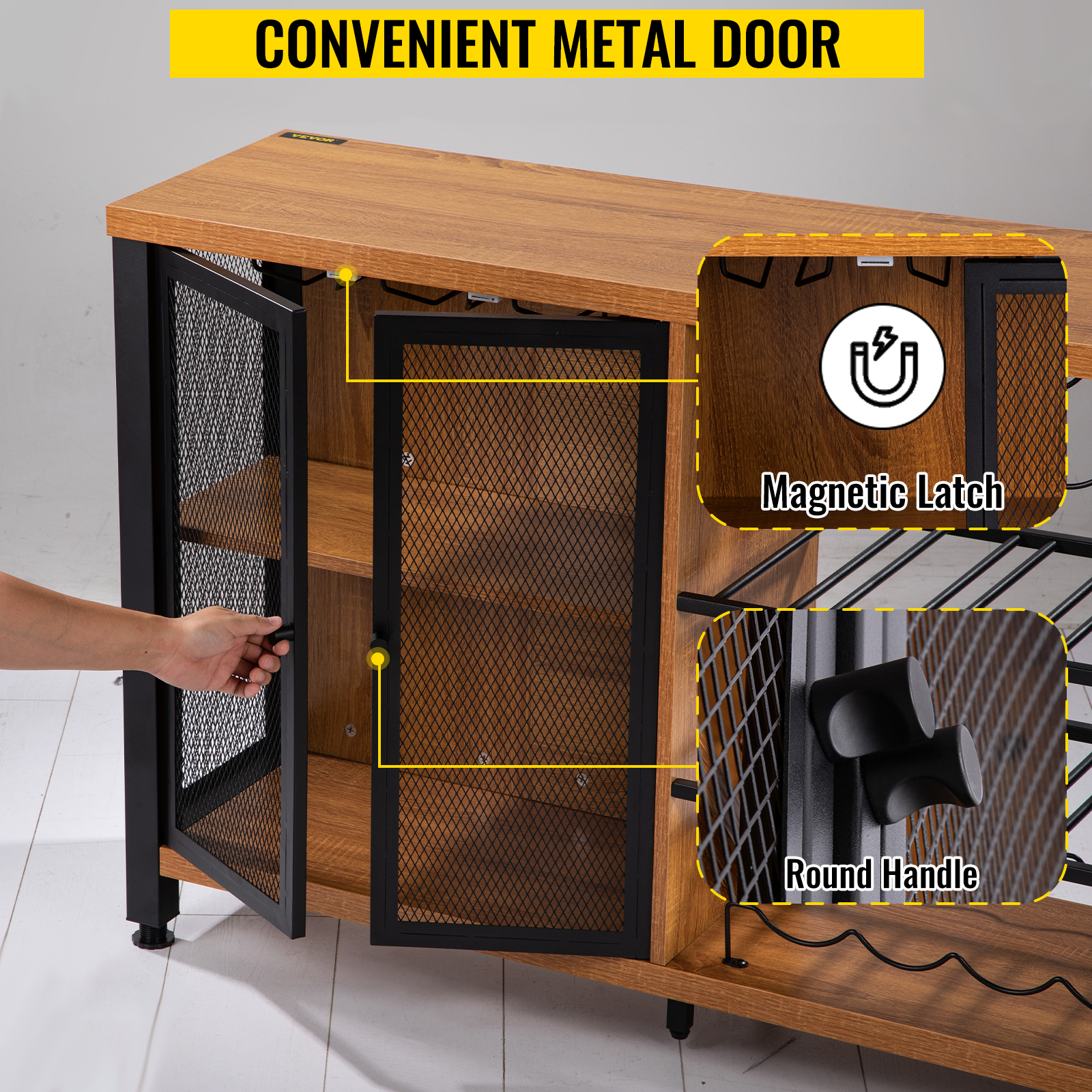 Convenient Metal Door
The 27.2 "W x 13.6″ D x 23.8″ H / 21.6″ W x 13.6″ D x 23.8" H metal mesh storage cabinets have spacious storage space to store your wine sets or coffee mugs while maintaining consistent air circulation and remaining dustproof. A magnetic touch latch and round handles allow the metal mesh doors to open and close freely.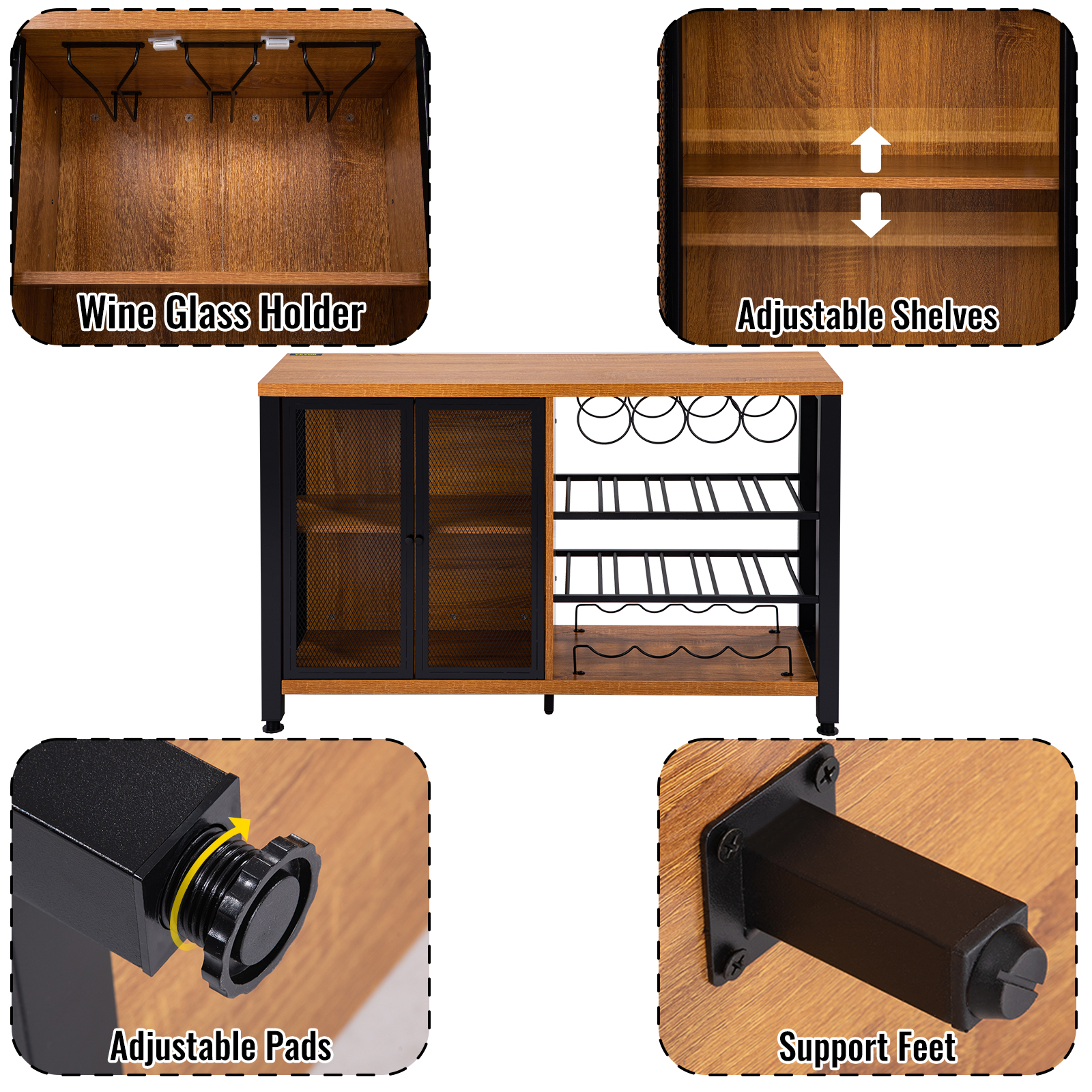 Wonderful Details for You
The shelf in the metal mesh door can be adjusted according to your own needs, and the height of the 4 feet can also be adjusted. In addition, we provide 3 rows of wine glass holders so that you can hang 6 wine glasses.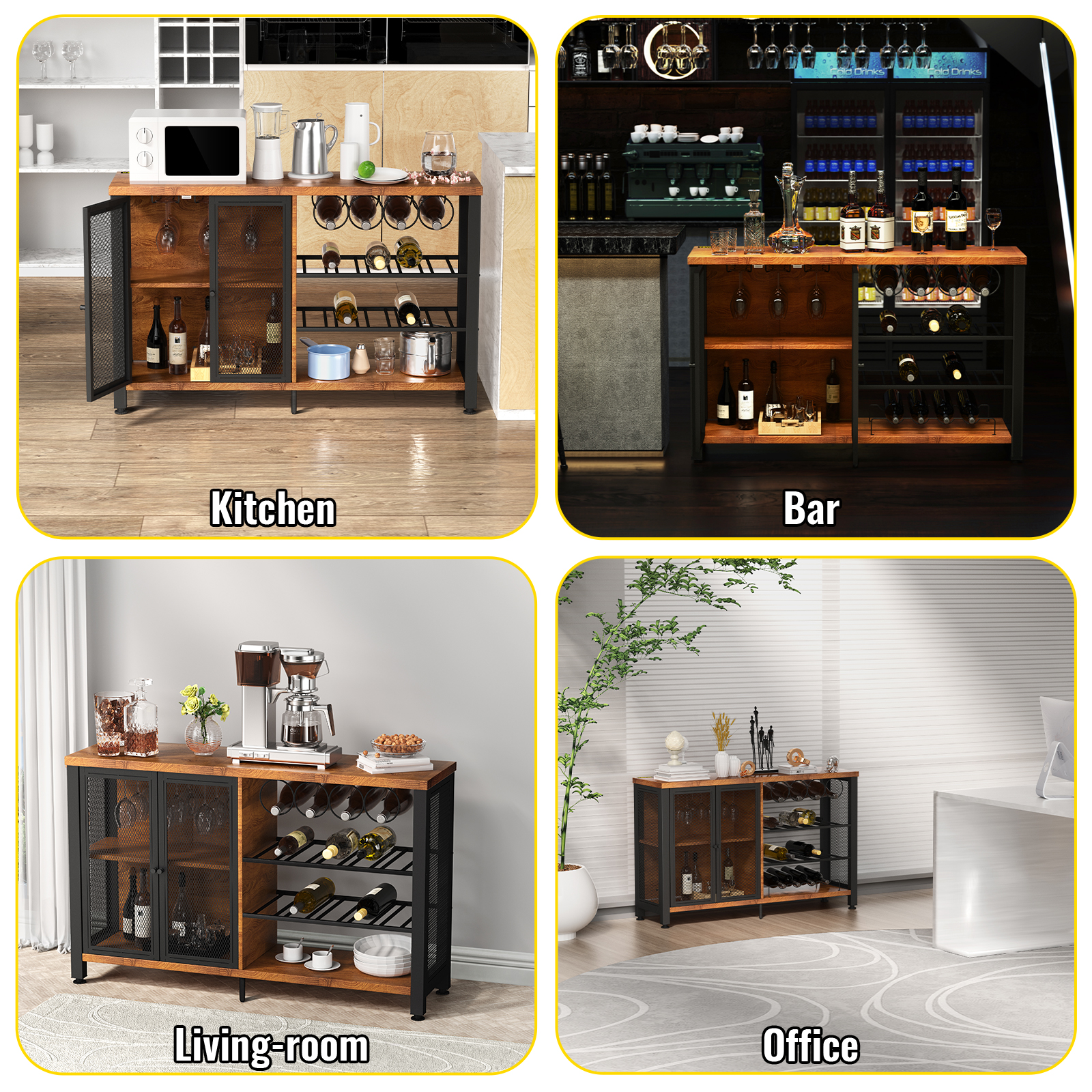 Extensive Application
This wine rack is suitable for any place in your home – living room, kitchen, bedroom, study, etc. In addition to making storage more convenient, its industrial design appearance can provide a unique decoration to any home style.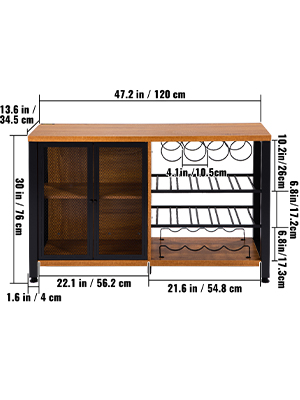 47 in Industrial Bar Cabinet
Model: VV-BCHJG-PZ-47in

Material: Iron + Composite Board

Capacity of Top Table: 330 lbs

Glass Holder: 1 Pcs

Wine Rack: 2 Pcs

Door Type: Double Metal Door

Item Weight: 61.2 lbs / 27.75 kg

Item Dimensions: 47.2 x 13.6 x 28.4 in / 120 x 34.5 x 76.2 cm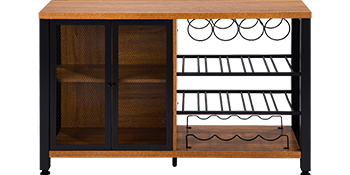 Package Content
1 x Industrial Bar Cabinet

A set of Installation Tools

1 x Instruction Manual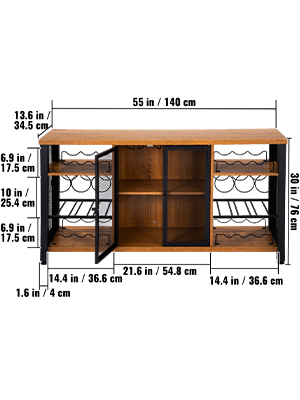 55 in Industrial Bar Cabinet
Model: VV-BCHJG-ZZ-55in

Material: Iron + Composite Board

Capacity of Top Table: 330 lbs

Glass Holder: 1 Pcs

Door Type: Double Metal Door

Item Dimensions: 55 x 13.6 x 30 in / 140 x 34.5 x 76.2 cm

Item Weight: 78 lbs / 35.4 kg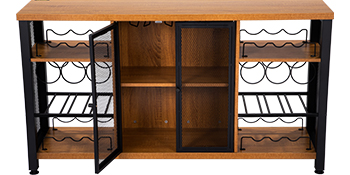 Package Content
1 x Industrial Bar Cabinet

1 x Set of Installation Tools

1 x Instruction Manual
Features & Details
Multi-Functional Bar Cabinet: Are you ready to expand your storage space with VEVOR? This industrial bar cabinet can help you do just that. Displaying your favorite drinks and foods on a tabletop that can turn into a bar will liven up any event. Also, you can arrange your tableware, books, or potted plants according to your preferences. It's time to set the mood with VEVOR.

Stable and Secure: This wine bar cabinet is composed of a 31 mm thick honeycomb top and bottom plate, and a 15 mm thick particleboard tabletop. The solid iron structure and 2 extra support legs under the bottom shelf ensure long-term durability and stability. Total Bearing of Top Table: About 330 pounds. Get ready for a ton of fun!

Better Manage Your Wine Bottles: Type A is equipped with 1 row of round red wine racks, two diamond-shaped red wine racks, and two rows of wavy red wine racks. You can place about 13 bottles of your favorite wines within reach. While type B has 2 round red wine racks, 2 diamond-shaped red wine racks, and 4 x 2 rows of wavy red wine racks, giving more room for holding 24 bottles. Open the metal mesh door, you can see the top plate equipped with 3 rows of wine glass holders, which can accommodate 6 red wine glasses. Be different, and stand out from the rest with VEVOR.

Unique Industrial Style: The metal frame and fine wood grain bring attention to the perfect combination of simple lines and modern chic style, which are suitable for most home decoration styles. The design of the metal mesh door is not just aesthetically pleasing, but also can play a good role in ventilation and dust prevention.

Store Items Everywhere: Our liquor cabinet can not only be used as a bar counter in a family bar but is also suitable for kitchen shelves, bathroom shelves, office storage shelves, coffee bar shelves, bookshelves, etc. You can place it in the living room, kitchen, bedroom, and corridor to make it a good helper for your storage. (It takes around 40 minutes to assemble by the hardware and instruction manual.)